Nex Level Arena Winter Training Academy
Nex Level Arena will be offering 2 training sessions this winter. The first will be December to January and then the second will be January to February. You can choose whichever positional training session you would like to attend. Nex Level Arena allows you to sign for the entire program, or just select that dates that work best for you.  Check out the information below to learn more and pick the sessions that are a best fit for your game. You can click any of the session pictures to register!
As a member of Team 91 West you will receive a discount on your registration. Please use the following discount code 91WEST (all caps) when completing your registration.  
This will be the only winter training program for Team 91 West. 

Youth Lacrosse Academy-- Winter Session 2
Dates:
January 9, 16, 23, 30
February 6, 13, 20, 27
Times:
6-7PM
Price:
$199/player
Age Groups:
2029-2024
SHOOTING AND DODGING ACADEMY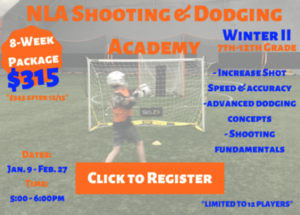 Shooting and Dodging Academy-- Winter Session 2
Dates:
January 9, 16, 23, 30
February 6, 13, 20, 27
Times:
5-6PM
Price:
$315/player
Age Groups:
2025-2020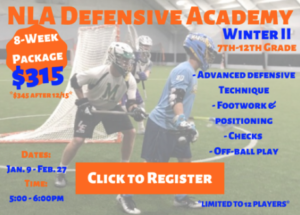 Defense Academy-- Winter Session 2
Dates:
January 9, 16, 23, 30
February 6, 13, 20, 27
Times:
5-6PM
Price:
$315/player
Age Groups:
2026-2020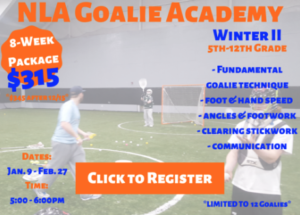 Goalie Academy-- Winter Session 2
Dates:
January 9, 16, 23, 30
February 6, 13, 20, 27
Times:
5-6PM
Price:
$315/player
Age Groups:
2027-2020